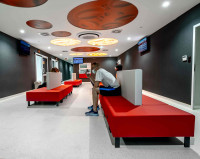 Regional Blood Donation and Blood Treatment Center in Białystok
Recently, we equip a medical center with a specialist equipment. It is a pure pleasure donating blood in such modern building.
Aby poznać więcej szczegółów dotyczących naszej oferty skontaktuj się z naszym doradcą.
Doradca Klienta
Beata Mikucka
+48 662 055 425
lp.obot@oruib :liam-e
Firma TOBO jest producentem mebli w kategoriach:
Meble biurowe
Meble domowe
Mele hotelowe
Mele kuchenne
Posiadamy największy salon mebli i krzeseł biurowych w Polsce wschodniej. Oferujemy krzesła, fotele obrotowye, sofy oraz meble metalowe polskich i zagranicznych producentów.
Copyright © 2018 TOBO Datczuk General Parentship